SHARING IS CARING. Openness and sharing in the cultural heritage sector, 2014
An anthology about digital media, the social Web, and the changes they bring about in the cultural heritage sector.
Edited by Merete Sanderhoff 
Read online, order print books, or download for free at the anthology website.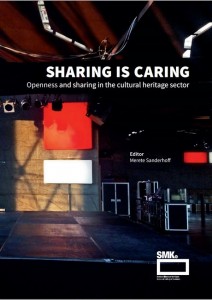 The anthology based on the Sharing is Caring seminars was released at Sharing is Caring 2014. The anthology contains articles by previous speakers, and includes a great list of contributions from among others Shelley Bernstein, Michael Edson, Sarah Giersing, Jill Cousins, Jacob Wang, Lars Lundqvist, and many more.
Contents

01/ Boom Michael Peter Edson
02 / This belongs to you. On openness and sharing at Statens Museum for KunstMerete Sanderhoff
03 / Building a commons for digital cultural heritage Jill Cousins
04 / GLAMourous remix. Openness and sharing for cultural institutions Martin von Haller Grønbæk
05 / Towards a shared Danish infrastructure for collection management and presentation Henrik Jarl Hansen & Christian Ertmann-Christiansen
06 / Digitising the Danish Broadcasting Corporation's archives – an innovation project Tobias Golodnoff & Miriam Lerkenfeld
07 / Open data at the Swedish National Heritage Board Lars Lundqvist
08 / Digital cultural heritage. Long perspectives and sustainability Jacob Wang
09 / GO. Curating with the Brooklyn community Shelley Bernstein
10 / Sharing authority. User-generated images as future cultural heritage? Sarah Giersing
11 / Museums and cultural institutions as spaces for Cultural Citizenship Nana Bernhardt & Lise Sattrup
12 / The future of museums is about attitude, not technology Jasper Visser
13 / Perspectives on participation in social media Nanna Holdgaard & Bjarki Valtysson
14 / Meeting the visitor. Dissemination of mobile guides at the museum front deskDitte Laursen
15 / How to ride the digital wave Lars Ulrich Tarp Hansen
16 / Sharing is Avant-Garde Theis Vallø Madsen
17 / @skattefar. Towards a public authority at eye level Lene Krogh Jeppesen
18 / Open licenses, open learning Peter Leth
Related
Interview with Merete Sanderhoff, curator of digital museum practice at SMK, on how the book came about.